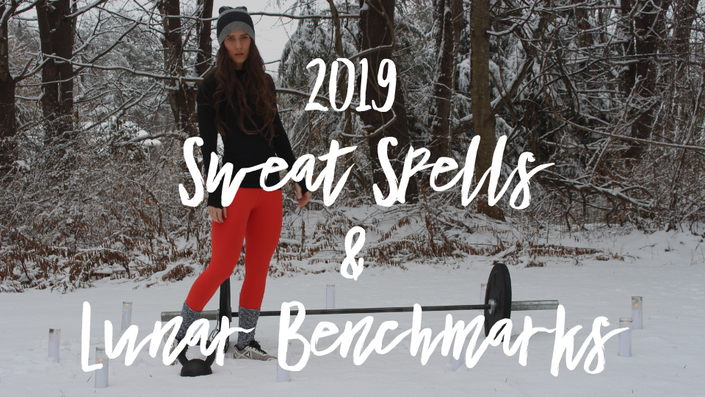 2019 Lunar Benchmark Workouts & Sweat Spells
Rituals and workouts for every
new, first quarter, full and last quarter
moon of the year
I've written a Lunar Benchmark Workout for each sign of the zodiac. Depending on this year's lunar calendar, we'll repeat each benchmark workout between three and four times. Repeating benchmark workouts throughout the lunar year gives us a fun, resonant and magical way to track our growth. (Both physical and spiritual!)
For example, if today were the Cancer Full Moon, we'd test the Cancer Lunar Benchmark Workout. We'll test this workout again when we have another lunation (i.e. a quarter or full moon) in Cancer.
Each Lunar Benchmark Workout comes with its own Sweat Spell. The Sweat Spells round out our movement practice by putting it into a holistic framework. It's my aim to connect what we're doing in our movement practice with what we're doing in our lives. In the Sweat Spells, I offer a myriad of activities to help you connect with the current lunation. These might take the form of meditation, journaling, or creating a body sigil to use during your workout.
Your Trainer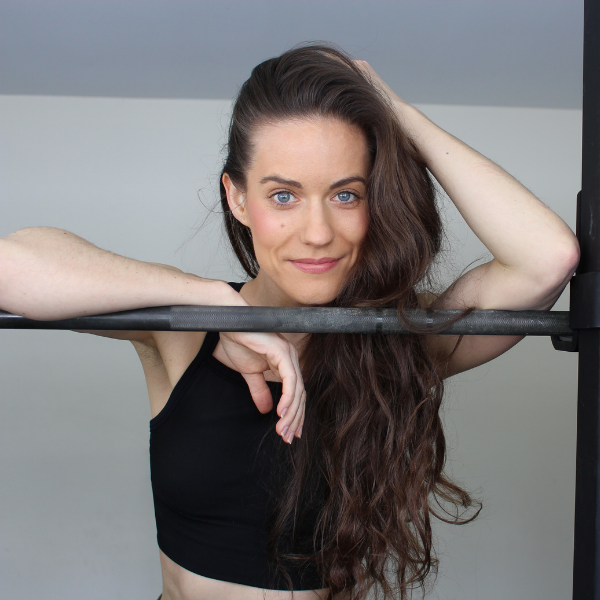 Hey, my name is Claire! I love coffee, snow, barbells and making extremely embarrassing Instagram stories here. I'm a Virgo Sun, Aquarius Moon and Sagittarius rising, with a really sassy Mars-Mercury conjunction in Leo. I'm an expert physical astrologer, certified strength & conditioning specialist, nutritionist and movement systems innovator. I've worked in fitness for 10 years, teaching everything from yin yoga to Olympic weightlifting. The MOONRx Method is my creative baby of many years and I'm so happy to share it with you.
Program Index
Intro
Available in days
days after you enroll
Warm-ups
Available in days
days after you enroll
Cool-downs
Available in days
days after you enroll
Frequently Asked Questions
How long to I have access to these workouts?
If you purchase the Sweat Spells alone and outside of a monthly membership, you'll have access to them for one year. At that point, you'll be able to renew or cancel your access.
If I decide MOONRx isn't right for me, am I able to get a refund?
Sorry, but no! All purchases are final, but memberships may be cancelled at any time.
I'm a beginner. Is MOONRx right for me?
Yes! There's a beginner version available for each workout.
What equipment do I need?
Most of the home and beginner workouts can be done with a set of dumbbells and a kettlebell. But please consult the detailed equipment list linked in the top menu.
Do I need a gym membership?
Only if you want one! Each workout comes with a gym version or home version. Please see the detailed equipment list in the top menu.
I'm newer to astrology. How will I know which workout to do when?
I've got you covered! There's a Sweat Spell schedule within the workout program.
Is The MOONRx Method only for women?
Absolutely not! The MOONRx Method is for all people.